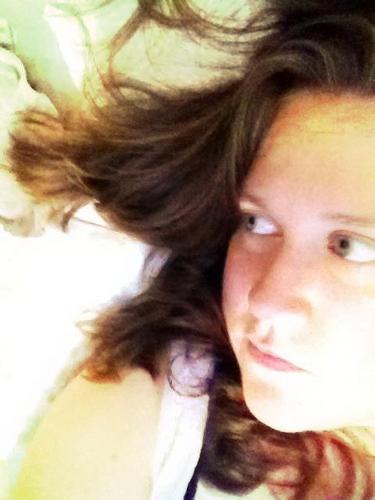 Jenna Cardinale is the author of Journals, a chapbook from Coconut. Her poems have appeared in some really great places, including Horse Less Review, Barn Owl Review, and A Sul de Nenhum Norte, a magazine of writing translated into Portuguese. She lives in New York with a pit bull named Maybe.
We went Behind the Sestina to talk to Cardinale about "Beyond January," featured in The Incredible Sestina Anthology.
When did you first discover the sestina?
While in college, I took a survey of American poetry and found Elizabeth Bishop's "Sestina" in the required anthology. I'd never heard the word before and was unable to stop thinking of the ending, that "inscrutable house."

Have you written sestinas before this one or since?
I attempted to write a sestina several times before "Beyond January," but felt stuck and abandoned them half-way through. Instead of the form propelling the effort, it seemed to ensnare it. I've managed to complete another one, during April 2012's Poem-a-Day.

Can you describe writing this sestina? 
When I set out to write this sestina I was preoccupied by my own experience with revision. I had this sense that constantly revising my poems removed the "moment" from them and I was excited by how difficult it is to make substantial revisions to this form without gutting the poem in an almost-complete way. I made only minor changes to it when I completed a draft, but took more time to write it.It taught me how to do this in my other work, too.
Did the subject matter of the sestina have an impact on the form used, or did the form have an impact on what you were writing about?
I typically start a poem with a phrase or two and no clear objective. With the sestina, I start with six words and the same lack of purpose. I think the form helped to dictate the subject of the poem. The repetition reinforced the heaviness of it.

While reading your sestina, I found myself relating to the feeling of being inside, hibernating, waiting for spring. Is that why you named the poem "Beyond January?" Is the speaker thinking of the future?
 Yes. I live in New York, which sometimes suffers brutal winters. It seems like the best time to focus on the future, since it's hard to do much else (besides drink). Spring seems to allow an opportunity to act on the plans we made while sulking in the depression of winter.

The first sestinas were always dedicated to someone—who would you dedicate your sestina to?
That would be my friend Christine Scanlon. She's the poet with whom I have most discussed the sestina — and form, generally — since we studied together at The New School. I'm grateful for her perspective. In all seasons. In all frames of mind.
–Interview conducted by Jessica Furiani