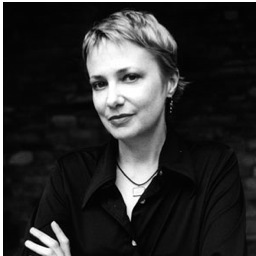 Sharon Mesmer's recent poetry collections are The Virgin Formica (Hanging Loose) and Annoying Diabetic Bitch (Combo Books). Other collections include Vertigo Seeks Affinities (Belladonna), Half Angel, Half Lunch (Hard Press) and Crossing Second Avenue (ABJ Press, Tokyo). Four poems appear in the newly-released Postmodern American Poetry: A Norton Anthology (Second Edition). Fiction collections are In Ordinary Time and The Empty Quarter (Hanging Loose) and Ma Vie à Yonago (Hachette, in French translation). An excerpt of her story "Revenge" appears in I'll Drown My Book: Conceptual Writing By Women (Les Figues). A two-time NYFA fellow and Fulbright Specialist, she teaches at NYU, the New School, the Poetry Project, and online for the Chicago School of Poetics.
We went Behind the Sestina with Mesmer to discuss her sestina, "Super Rooster Killer Assault Kit," featured in The Incredible Sestina Anthology.
When did you first discover the sestina? Do you remember the first sestina you ever read? What's your favorite sestina?
Any "first sestina" would have to date back to about 40 years ago, so I can't quite recall what that first one might have been.  I do remember reading Pound's "Sestina: Altaforte" in Paul Hoover's "Pound, Eliot and Williams" class back in 1978, at age 17, and hating it, especially the line, "to rot in womanish peace."  Reading that line now, however, I can see really doing something with it …
We're curious about your sestina-writing life. Have you written other sestinas, either before this one or since? If this is a one-off sestina, why is that? If you've written many, what keeps you coming back?
I thought this first one would be a one-off, but right this second I started a new one called "To Rot in Womanish Peace."
Can you walk us through the composition of this sestina? The title of your poem is, shall we say, striking. For example, the internet tells us that Super Rooster is a type of supplement for the "care of fighting cocks"; specifically an "Anabolic stimulating protein metabolism and promotes development of muscle mass" Are you, in fact, a cock-fighting enthusiast?
I'm surprised you didn't know,that "Sharon" means, in Old Frisian, "Cock fighting enthusiast."  (No. that's not true.  No cocks were harmed in the writing of this poem.)  Compositionally, the poem is a flarf sestina (a flestina? a sestinarf?), and my aim was to use words — and phrases; I particularly wanted to use phrases — that one might not necessarily find in a sestina, like:
crapsauce
maximum nacho
classy smashing
gangsta fag
shitler
Orville Redenbacher.
It being a flarf poem, I put each word or phrase through Google and composed from the results.  Pretty much right away (which surprised me) a kind of voice/narrative started to emerge, so I just kept to that "feeling."  As is so often the case when I write flarf, I had the feeling I was pushing way, way past my own "self" to get at some other, very different source.  And this very different poem-source seems VERY different from even flarf poem-sources.
It would be fair to say you're one of the central figures of the practice of poetry called Flarf. Would you call this a Flarf sestina? Do you find the sestina as a form accommodating to any of the ideas or practices surrounding Flarf?
Doing this as a "flestina" was very interesting.  I thought at first it was a fool's game (and who's to say it wasn't, ultimately?) because I was expecting random chance to provide content for something so traditionally prescribed.  But then I began to see the poem actually taking on a volition, and I was entertained by the idea that something so determined could also contain such caroming weirdness.  And it seemed to take on extra weirdnesses as I went along, and so I just trusted that I'd end up at some super weirdness point-of-no-return . . . and thus the extra two words on the end.
The envoi seemed like the perfect place for something to really take off into stratospheric weirdness, and I like that the envoi is also called a tornada— there really is something twister-ish about it, even in normal poetry.  In my poem I wanted it to be crazy twister-ish!  One thing I've always liked about flarf is how the "voice" or persona of the poem so frequently ends up being not my own  — not at all — and this was no exception.  It's exceptional, in fact, in its overwhelming "not my-own-ness."
Finally, the first sestinas were always dedicated to someone—to whom would you dedicate your sestina?
To golf ball-sized Khloe Kardashian, of course.